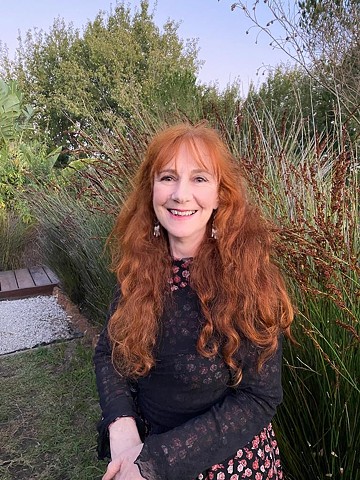 I have been making art since a child and one of my first art works were stage-sets adapted from drawings made at 4 years old, while seated next to my mother at her drawing table. I watched as she appeared to struggle drawing a tree, a chimney and a large old shoe with windows and doors for Audrey King's ballet "Nursery Nonsense". I had a clear child's idea of how these items should look and no sooner had I finished drawing than my mother snatched them away saying, "That's it!" They were turned into very large, brightly painted stage sets, in and out of which we ballet children danced while enthralling the audience with nursey nonsenses of rings around roses and the old woman who lived in a shoe to the music of Elgar. The programme said, "Sets designed by Amanda Jephson aged 24" as the printer thought "aged 4" was an error. The joy of drawing and painting has never left me.
As a fine artist I practice traditional, "low-tech" methods of art production of drawing, painting, intaglio relief printmaking and paper sculpture. Paints and graphic mediums include oil and acrylic painting, ink, graphite, mixed drawing mediums and printmaking techniques. Paper sculpture has been a recurrent fascination of mine, and I use hand painted paper as a sculptural medium.
Works on canvas, paper and board include a wide range of subjects from landscapes, still life, animals and portraits to figurative subjects.
My landscapes are inspired by the rural surroundings of the farm where I live with my husband, outside Baardskeerdersbos, in the Southern Overberg. I am attracted to Overberg and Scottish Highland landscapes which share similar characteristics of agrarian, mountainous, sea and loch landscapes , vegetation of fynbos and bracken flora, and vernacular architecture of Cape and Croft. Both places have wide open landscapes filled with sky, dappled light and clouds; large bodies of water of sea, damns or lakes ; flat green or rising mountainous landscapes; wind blown bushes and trees; small vernacular buildings of worn down brick, mud or stone, inhabited by agrarian people and animals, embodying rustic farm life that is endlessly peaceful and at one with the countryside.
The genre of still life is a painting convention I also use for conveying more intimate and personal themes. I have a deep fascination with the past, and old household objects, found archaeological artefacts and rubbish of discarded shoes, bits of mirror, funerary ornaments, fruit, pottery shards and bones collected on the farm are incorporated into my still lifes
As a passionate animal lover there are many inspirational beasts on the farm, cats, chickens, geese, cows and donkeys which provide an endless source of subject matter. Birds, wild life and natural objects, have inspired me since I can remember from my earliest drawings and watercolours in the Transvaal veld and on trips to game parks.
Portraits of friends and people of interest are included in my genre and I have more recently included figurative elements, such as in my White Privilege series.
In 2019/21 I participated in painting workshops with Greg Kerr and the result was more experimental work with paintings derived from charcoal, pastel and collage drawings.
Distinctive qualities of my work include strong, expressive colours, rhythmic, lyrical line and form, contrasting tones and vibrant mark making. I continuously evolve and change my work, moving through different styles and subjects. The most consistent style of my painting being, semi-realist with overtones of Post-Impressionism, the Fauves and Nabis.
Currently I am exploring the versatile qualities of paper sculpture. Works include playful and whimsical cat and animal characters dressed in costumes inspired by the 18th century. The sculptures are entirely made out of paper which I have hand painted.
Ballet has been ever present in my life and the exploration of paper as a sculptural medium has developed into recent works of hand-painted ballet figures based on some of figures from the Ballet Russe. These are set in a hand-painted paper theatre with paper sets and backdrops, paper curtains and decorative features.
I am currently combining art and psychology for a Masters in Psychology, studying Xhosa women's experiences of migration, gender-based-violence and suicidal behaviour.
I am a Stage 4 breast cancer survivor (MBC) for which I am receiving chemotherapy.
To view my work please click on each Portfolio section.
Please also visit the Links page to see more!
As a founder member of the Baardskeerdersbos Art Route I have exhibited on the art route from its inception in 2008. I currently exhibit at my farm studio/ gallery and also sell my work online from this web site and Instagram. Please contact me via the Contact page if you would like to find out more about my work. I sell locally and internationally and I am happy to ship anywhere internationally at very reasonable postage rates, My works are in private collections in South Africa, the United Kingdom, Germany, Holland, Australia, New Zealand and the United States.
Thank you for visiting my web site.
Exhibitions
1979 Gallery 709 Cape Town - Exhibition of Drawings and Mixed Media
1998 Dorp Street Gallery, Stellenbosch, Group Exhibition
1999-2001 Greyton Art Gallery, Group Exhibition
2003 Summer Salon, Hout Street Gallery, Paarl
2002 Stanford Group Exhibition
2008 Napier Gallery Group Exhibition
2010 Stanford Art Cafe Group Exhibition
2013 Muse Exhibition, Casa Labia Galley, Cape Town
2014 Bredasdorp Gallery Group Exhibition
2008- 2019 Baardskeerdersbos Art Route –
Bi Annual Exhibitions at the Stables Studio, Assegaai Bosch Farm, Baardskeerbersbos.
Awards
1980 Class Medalist: Cultural History of Western Europe I
1981 MacIver Scholarship
Twamley Scholarship
C.G.Saker Scholarship
Class Medalist: Cultural History of Western Europe II
1982 MacIver Scholarship
Twamley Scholarship
C.G.Saker Scholarship
Class Medalist: Cultural History of Western Europe III
1983 MacIver Scholarship
Twamley Scholarship
C.G.Saker Scholarship
1984 MacIver Scholarship
Twamley Scholarship
C.G.Saker Scholarship
UCT Post Graduate Scholarship
Human Sciences Research Council Bursary
Harry Oppenheimer Travel Grant
1985 UCT Post Graduate Scholarship
Human Sciences Research Council Bursary
Jules Kramer Grant
Harry Oppenheimer Travel Grant
1986 UCT Post Graduate Scholarship
Human Sciences Research Council Bursary
Harry Crossley Overseas Travel Grant
Jules Kramer Grant
Harry Oppenheimer Travel Grant
1988 MacIver Scholarship
1992 Merit Award Student in Landscape Design
1993 Best Student Award in Landscape Design
1994 Best Student Award in Landscape Design
Van Elden Prize National Diploma Landscape Technology
Publications
Interview with William Kentridge, ADA Magazine No 4, 1987
Bongiwe Dhlomo- Printmaker, ADA Magazine No 5, 1988
Tarting Up the Transitional, ADA Magazine No 5, 1988
Iijondolo: Black and White in Gold, review article of Echoes of South African Art by Matsemela Manaka (1987 Skotoville Press)
Co-author review article of Art of the South African Townships, by Gavin Younge, ADA Magazine No 6 1989
FUBA Academy, Johannesburg, ADA Magazine No 6 1989
Rorke's Drift ELC Art and Craft Centre- Origins and Overview, Centre for African Studies, University of Cape Town 1990
Paint and Popular Texture: Making South African Art and Its History Accessible, review article of 150 South African Paintings by Lucy Alexander and Evelyn Cohen (1990 Struikof), ADA Magazine No 9, 1990.